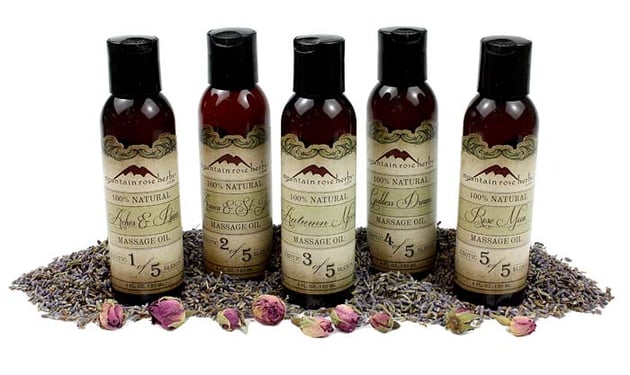 You may have noticed our new massage oil packaging in our Herbal Love Gift Guide. Well, here they are! Our 4oz Massage Oils are now packaged in a plastic amber flip cap bottle for easy one-hand application. They also have beautifully redesigned labels that can be proudly displayed on store shelves or on your nightstand.
Choose from 5 aromatic and therapeutic massage oil blends handcrafted from 100% natural botanical ingredients:
1 ~ Aches & Pains oil is both warming and soothing to minor aches and stiffness.
2 ~ Arnica & St. John's oil is crafted for deep tissue work.
3 ~ Goddess Dreams oil will stimulate your senses and dreams with it's sweet fragrant aroma.
4 ~ Autumn Moon oil and 5 ~ Rose Moon oil are both indulging and make a wonderful oil to share with a loved one.
Whether you try one or all five, they will make the perfect addition to your personal or professional collection of luscious massage oils.
Click here to see a full list of ingredients!