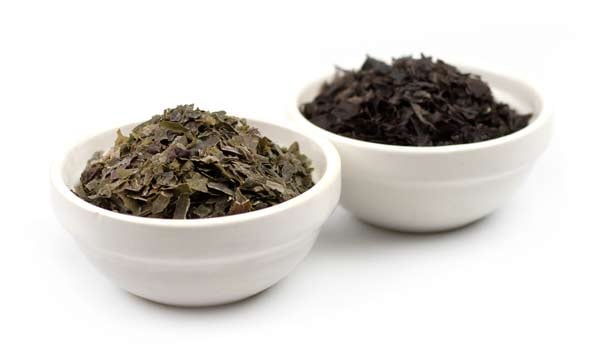 We are so pleased to warmly welcome back our old friends from the sea, Organic Nori Flakes and Organic Kombu Flakes. We have found a great source who carefully and respectfully harvests these treasures off the coast of Maine, and we couldn't be more excited to once again be able to offer these products to our customers!
The term nori was originally a generic term in Japan that referred to many types of edible seaweeds, but over time it came to describe specifically seaweeds from the Porphyra genus. Nori is also referred to as laver in Wales and other English-speaking countries. Nori has been eaten in Japan since 700 AD, and is a source of Vitamin B12, especially for vegans. While Nori is most well-known for its use as a wrap for sushi and onigiri, our Organic Nori Flakes are perfectly suited for use as a garnish in noodle preparations and soups.
Kombu is used extensively in Japanese cuisine as one of the three main ingredients needed to make dashi, a soup stock, and also used to prepare a seasoning for rice to be made into sushi. The dried seaweed is also made into a hot infusion that is widely enjoyed in Japan. Kombu is a source of glutamic acid as well as dietary fiber. Our Organic Kombu Flakes also contain enzymes that specifically break down complex sugars that are normally indigestible to the human gut. Another possibly interesting use of Kombu which is being explored by the scientific community is that genetically manipulated E. coli bacteria can digest kombu into ethanol, making it a possible maritime biofuel source.
Click here to learn more about our Organic Kombu Flakes and Organic Nori Flakes