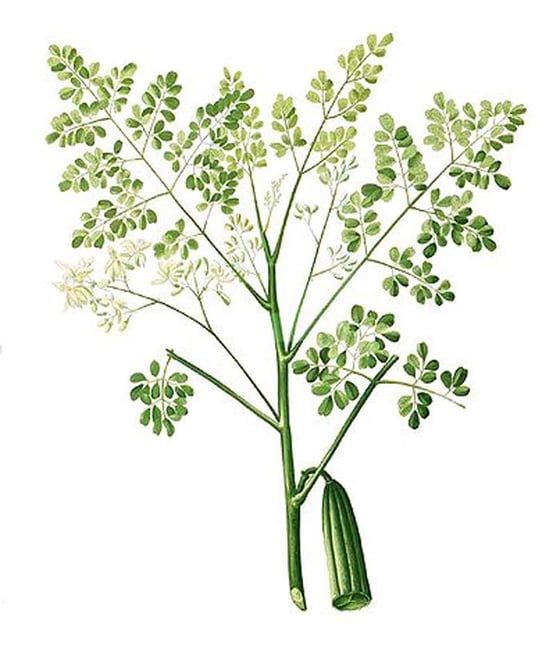 Moringa is a tree that has been used for thousands of years in India for everything from food, to building materials, to medicine. This 'wonder tree' truly is wondrous in that each part of the tree is useful. The roots, stems, leaves, seed pods, resin, and flowers are considered to be healing herbs in Ayurvedic (traditional Indian healing system) and Unani (traditional Middle Eastern healing system) folk medicine. In modern times, the leaves and seed pods are utilized extensively due to their nutrient content.
The generic name is derived from the Tamil (language spoken in southern India and northeast Sri Lanka) word 'murungai' meaning twisted pod, and 'oleifera' is Latin meaning 'oil-bearing' due to the seeds high oil content. There are several terms for the tree in Ayurveda such as 'shobhanjana' meaning 'very auspicious tree' or 'mochaka' which translates to the tree that 'helps to cure diseases.'
It is believed that the moringa tree originated in northern India and was being used in Indian medicine around 5,000 years ago, and there are also accounts of it being utilized by the ancient Greeks, Romans, and Egyptians. This tree was, and still is, considered a panacea, and is referred to as the 'The Wonder Tree', 'The Divine Tree', and 'The Miracle Tree' amongst many others.
Find out more about this amazing leaf on our website HERE!