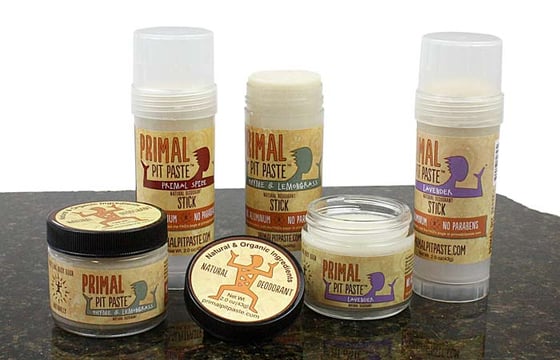 We have finally found a natural deodorant that really works!
These effective deodorants from Primal Pit Paste are handcrafted with organic and natural ingredients. Made with no aluminum or parabens and no antiperspirants, these deodorants are just that - deodorant!
The jar of primal pit paste is simple and easy to apply. Simply dab a pea size amount and rub gently into your underarms. For those who prefer a more traditional method of applying deodorant, primal pit paste is also available in a push up stick. Both made with the same great formula (the stick contains a little beeswax), you will find the perfect herbal protection for your needs.
Choose from the following 2 oz. options
Lavender: jar or push-up stick
Thyme Lemongrass: jar or push-up stick
Primal Spice: push-up stick
Find them on our website here!
Contains: organic Arrowroot powder, Coconut oil, organic raw Shea butter, non-aluminum baking soda, and pure essential oils. The stick also contains organic Beeswax.