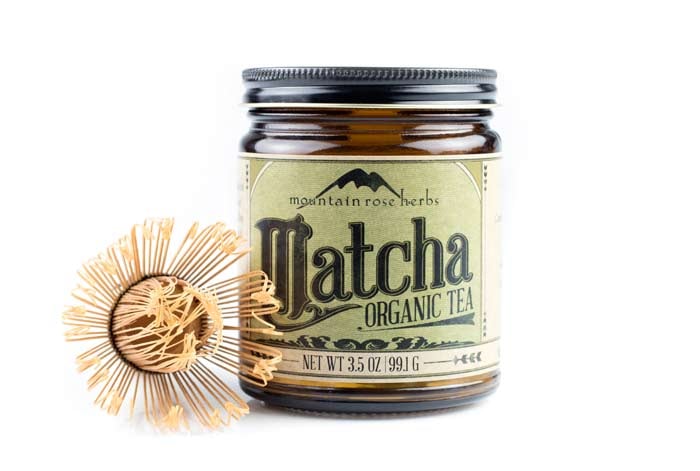 Our delicious Organic Matcha Tea is now packaged in a 3.5oz amber glass jar. This jar is made from amber glass, and can continue to be reused to store all kinds of goodies.
We also offer our Matcha Tea in bulk bags of 8oz or 1lb.
Our luxurious Organic Matcha Tea is finely ground powder of specially grown and processed green tea. It is unique in two aspects of farming and processing. First, the green tea plants for matcha are shade grown for about three weeks before harvest. This process slows the growth of the plant, stimulates an increase in chlorophyll levels and increases the production of certain amino acids, leading to a robust, vegetal flavor. Unlike other green teas, the stems and veins are removed in processing before the leaf is stone-ground to a fine powder using a traditional granite stone mill. Matcha provides the maximum amount of health benefits as compared to other green teas, since you are consuming the whole leaf as opposed to infusing the leaf in water.
Matcha tea has been enjoyed in China for nearly 1400 years, and it was brought to Japan in 1191 by a monk who is also credited with introducing Zen Buddhism to Japan. The traditional Japanese tea ceremony centers on the preparation, serving, and drinking of matcha. In modern times, matcha has also been used to flavor and dye foods such as mochi and soba noodles.
Now that summer is upon us, one of our favorite uses for matcha is to make green tea ice cream. Find the recipe here!
Want to learn more? Visit our Organic Matcha Tea profile on our website.