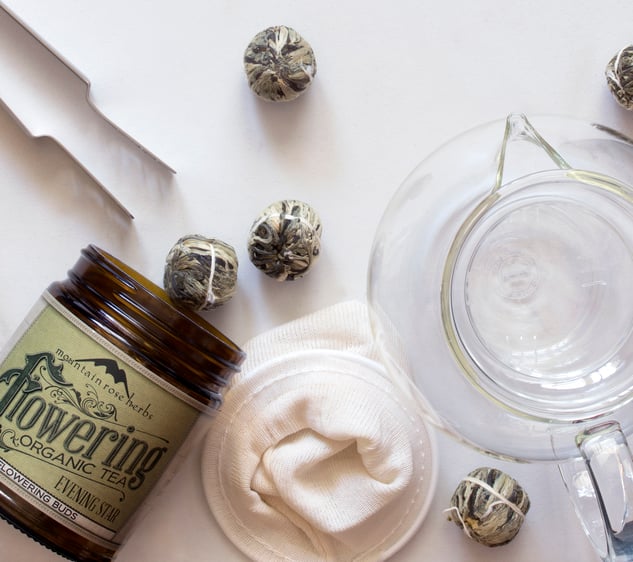 In the fall we enjoy the cooler nights and shorter days, not to mention the lovely foliage as the last bits of chlorophyll fade from the leaves. One of our favorite rituals at this time of year to mark the change in seasons is to sit down with a steaming mug of beautiful organic flowering tea.
These blooming teas are intricately stitched using organic green tea leaves interlaced with fragrant flowers. These artful buds unveil themselves in a stunning bouquet during the brewing process. We've found that this added visual aspect of brewing tea creates an excellent space for cultivating compassion and gratitude!
There is a learning curve to brewing excellent teas, so here are a few tips we've learned over the years so that your flowering tea experience unfurls with grace:



How to Make Blooming Teas
Place one tea bud in a clear glass teapot. No clipping of the strings encasing the tea needed!
Heat water until it's close to boiling temperature.
Slowly pour hot water over the flower until it's completely submerged.

If you pour the water in too quickly, the bud will float to the top.

Watch the tea leaves slowly unravel.
Steep three to four minutes or until desired strength.
Sip and enjoy.

Mindfulness and intention are important when making flowering tea.
Helpful Accessories
You'll need a nice glass teapot in order to observe and be present with the process, and we recommend our Glass Contemporary Teapot for this. This teapot also comes with a glass infuser, so you can use it for loose leaf tea as well, but you'll want to remove the infuser when making flowering tea. We offer four different varieties of flowering tea: Dawn's Delight, Evening Star, Marigold Embrace, and Rosebud Revealed. If you're having trouble choosing just one, check out our Flowering Tea Sampler Pack, which includes two buds of each variety. Happy sipping!
Looking For More Floral Tea Experiences?