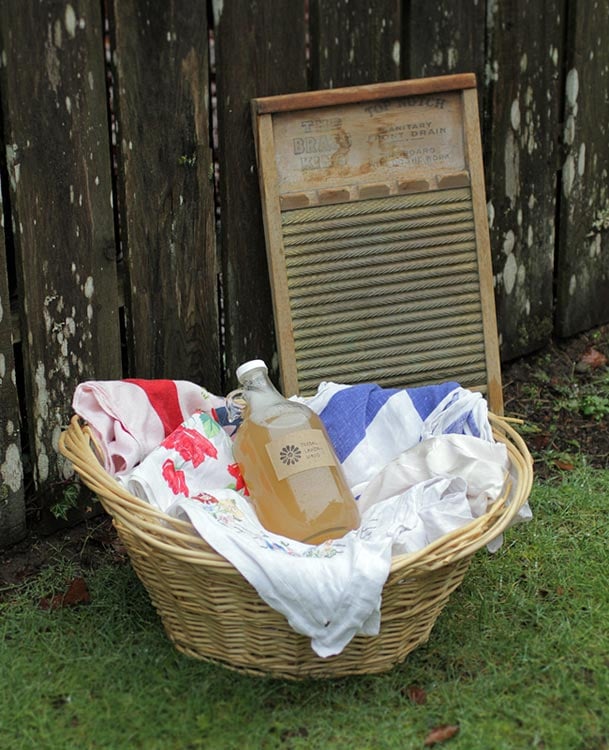 Conventional dryer sheets contain synthetic fragrances, chemicals, and known carcinogens and neurotoxins. These unnatural substances have been linked to disorders of the brain and nervous system, as well as headaches, nausea, dizziness, depression, loss of muscle coordination, fatigue, drowsiness, and other illnesses. Plus, they're unrecyclable and end up in landfills. Consider ditching the toxic dryer sheets and using homemade herbal dryer sachets instead!
Herbal Dryer Sachets
Homemade herbal dryer sachets can be used in exactly the same manner as commercial varieties, but don't contain the synthetic chemicals or artificial fragrances. Besides making your laundry smell wonderful, they are sustainable and healthy to use. Best of all, this recipe is highly customizable, allowing you to add whatever herbs and essential oils you desire.
Begin by filling the muslin bags with the herbs of your choice. Lavender is a popular and well-loved classic floral note. Peppermint and rosemary are bright and uplifting. Dried lemon, lemongrass, and orange peel all smell fresh, citrusy, and clean. Other popular choices include soothing chamomile flowers, floral rose petals, romantic geranium leaves, and woodsy cedar tips. Be creative with your blends and use whichever herbs inspire you!
You may add a few drops of essential oils, but do so sparingly and cautiously as essential oils are flammable and potentially dangerous. Each dryer sachet can be used up to 10 times, or until it loses its scent. Before each use, remove the sachet from the dryer and squeeze it to help release its scent. Once the sachet no longer imparts fragrance, the spent herbs can be composted and the bag refilled with fresh herbs. Use homemade sachets in the same way you would use the commercial variety—simply toss it into the dryer with your clean clothes.
Natural Fabric Softener
Vinegar makes wool and cotton fabrics extra soft and fluffy, removes soap residue, and breaks up oils and grease. It also dissolves uric acid, making it perfect for baby diapers. Choose whichever essential oils you like best, based on their properties and aromas.
Ingredients
1 gallon vinegar
10-30 drops essential oil(s) of choice. Some favorites are: cedarwood, eucalyptus, geranium, grapefruit, lavender, lemon, lemongrass, lime, mandarin, peppermint, rosemary, sage, spearmint, sweet orange, tangerine, tea tree, or ylang ylang.
Directions
Add essential oils to the gallon of vinegar. Shake well before using. For regular or small loads, add 1/2 cup during the rinse cycle, and for large loads add 1 cup.

Herbal Laundry Tips
Brighten whites
Add 1/4 cup of baking soda or borax to your washing machine during the wash cycle, or 1/2 cup of white vinegar during the rinse cycle.
Make a natural stain remover
You will need borax, white vinegar, water, a spray bottle, and a toothbrush. Place the borax in a container with a shaker top. Mix equal parts water and vinegar in a spray bottle. To treat stains, shake the borax directly onto the stain, and then spray with the vinegar and water solution. Use the toothbrush to make a paste with the ingredients, and then scrub the stain. Allow to sit for 10-20 minutes, then wash as usual.
Remove lingering soap residue from clothing
Add 1 cup of white vinegar to your washing machine during the final rinse cycle. Also works for urine on baby diapers.
Add essential oils to laundry detergent
Naturally scent laundry and utilize the therapeutic properties of essential oils. Try cedarwood, eucalyptus, geranium, grapefruit, lavender, lemon, lemongrass, lime, mandarin, peppermint, rosemary, sage, spearmint, sweet orange, tangerine, tea tree, or ylang ylang.
Use dryer balls instead of dryer sheets
Fluff up laundry and separate clothes as they tumble dry. As an added bonus they may help to shorten drying times. Dryer balls are available in many retail and online stores, or make your own using felted wool.
Add a washcloth with essential oils to your dry cycle
Naturally scent clothing. Make sure to only add a few drops and use caution as essential oils are flammable and adding them could potentially be dangerous.
You may also be interested in: