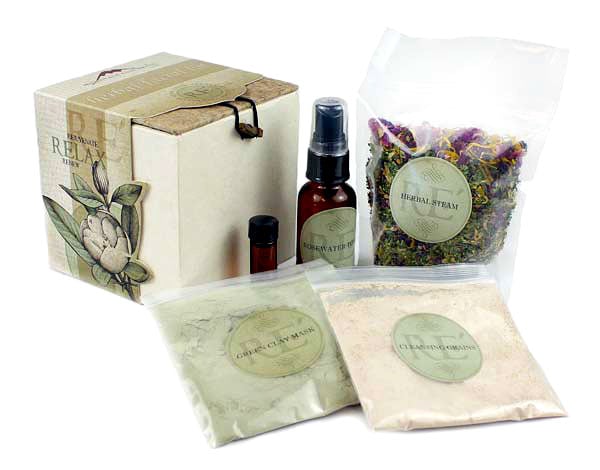 Rejuvenate, relax, and renew with our invigorating and all natural Herbal Facial Kit. Handcrafted with beautiful organic herbs, pure essential oils, fine cosmetic clays, and pure rosewater, this kit is perfect for pampering delicate skin.
Each kit now comes packaged in a decorative reusable box made out of recycled board stock that's covered in a tree-free wild grass paper, and then finished with a sweet little twig closure. Perfect for storing your facial kit ingredients or any other treasures you may have!
Complete with step-by-step instructions, each kit comes with enough supplies for 5 facials and includes some of our very favorite Mountain Rose Herbs facial-care products - all made by us in small batches:
Herbal Steam - Open pores with skin nourishing plant oils.
Cleansing Grains - Gently exfoliate dead skin and clear pores.
Green Clay Mask - Absorb toxins, stimulate circulation, and deep clean pores.
Wild Rose Facial Oil - Moisturize, protect, and balance your skin.
Rosewater Toner - Invigorating astringent to tighten pores and seal in moisture.
This luxurious kit makes a wonderful gift for a friend or a lovely treat for yourself.



You may also like: