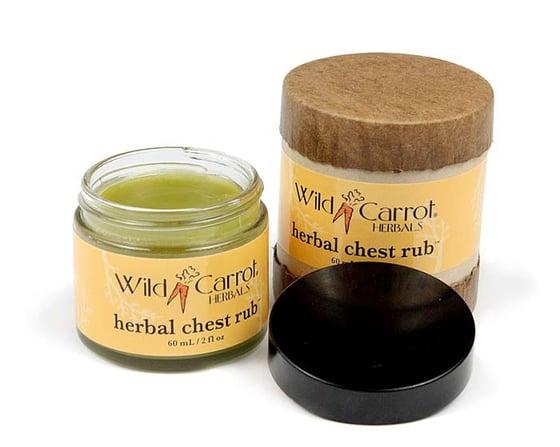 Allergy season is in full swing here in the Willamette Valley - thank you grass! This is one reason why we're thrilled to bring you this new Herbal Chest Rub from our friends at Wild Carrot Herbals. They fill each batch with botanical healing goodness that you just can't find in conventional chest rubs.
Perfect for this time of year, I have been dabbing a little under my nose to make it through the day. This effective chest rub is crafted with herbally infused olive oil and essential oils known for opening the airways. Calming and soothing during times of congestion, this is an even stronger version of Wild Carrot's ever popular Children's Chest Rub and is easily applied to the chest for long lasting relief or just a bit under the nose to soothe when needed.
Contains: organic olive oil infused with organic yarrow, organic chickweed, organic roman chamomile, organic yerba mansa, organic Echinacea purpurea, organic oregon grape root, organic castor oil, beeswax, and essential oils of Eucalyptus radiata, niaouli, rosemary, lavender, tea tree, and organic sweet orange.