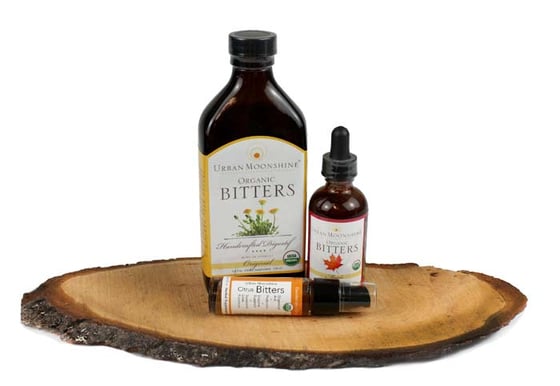 Our Herbal Bitters from Urban Moonshine are now available in three sizes!
1/2 oz. personal glass spray bottle: the perfect size to take your bitters with you. Easily slips into a purse or pocket.
2 oz. glass dropper bottle: convenient bottle ideal for medicine cabinets and kitchen counters.
8.4 oz. glass refill bottle: economic, perfect to keep around to refill your smaller sizes.
Why bitters?
Bitters have been used throughout history to stimulate the digestive system. Thus began the tradition of steeping bitter-tasting roots, leaves, and berries in alcohol and serving the mixture before or after a meal. These tasty bitters may be enjoyed as an aperitif, a digestif, or to settle an upset stomach.
Choose from three delicious flavors:
Citrus, Maple, and Original!
Contains: organic grape alcohol, water, organic Dandelion root and leaf, organic Angelica root, organic Burdock root, organic Orange peel, organic Fennel seed, organic Yellow Dock root, organic Gentian root, organic Ginger root, organic Maple Syrup (Maple Bitters only), organic Gum Arabic, organic essential oils. Not for use in pregnancy due to the use of angelica.