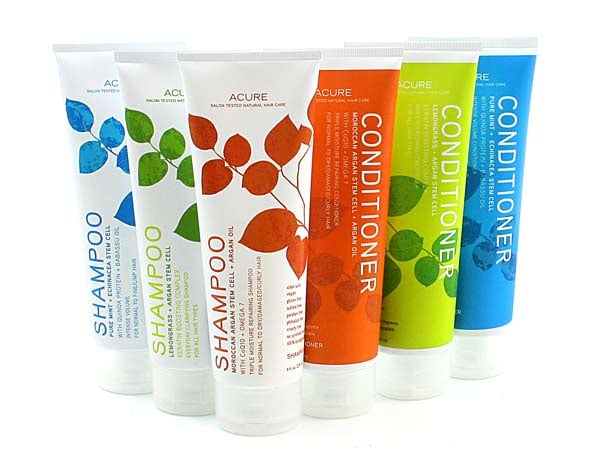 Shampoos and Conditioners from Acure Organics are here!
Choose from three amazing shampoo and conditioner combinations, or mix and match as needed.
We love these hair care products because they are 100% biodegradable and contain no synthetic fragrances. They are also vegan, gluten-free, sulfate-free, paraben-free, phthalate-free, and cruelty-free. In addition, Acure Organics donates 10 cents of every shampoo or conditioner purchase to water.org, an organization dedicated to providing clean and safe water to people all over the world.
Lemongrass and Argan
This everyday clarifying shampoo and moisturizing conditioner are refreshing choices for all hair types, and promote shiny, healthy, and clean hair. This shampoo is formulated with organic argan oil and organic avocado oil to help support hair keratin and provide vitamin B12 with every wash, and the conditioner contains moisture rich organic fair trade cocoa butter. These color-safe hair care products have a bright lemongrass aroma.
Moroccan Argan
This triple moisture repairing shampoo and conditioner duo is ideal for those with normal to dry, damaged, or curly hair. These color-safe products have a lovely almond aroma, and provide lasting moisture for dry and damaged hair. Formulated with organic argan oil, sea buckthorn oil, and organic pumpkin seed oil to provide all of the essential omega fatty acids needed to add moisture and shine to your hair.
Pure Mint & Echinacea
This intense volumizing shampoo and conditioner were created for normal to fine or limp hair. With a refreshing mint aroma, these color-safe products gently build volume without stripping the natural oils in your hair. Formulated with quinoa proteins to support keratin, and babassu and organic argan oils to provide a lightweight moisture your hair will enjoy.
We hope you like them as much as we do!
Visit our Natural Hair Care page to see our full line of offerings.