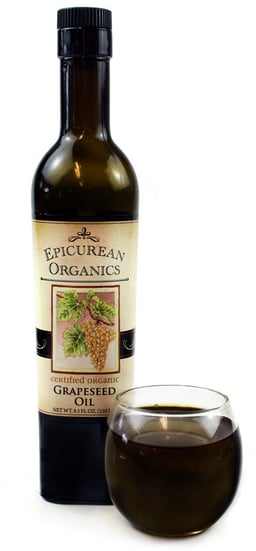 Have you tried Grapeseed Oil?
A common ingredient in cosmetic and body care formulas for its moisturizing properties, this unique and dynamic oil is also quite delicious. Made by crushing whole raw grape seeds (a delightful by-product of the wine industry) this oil presents a bright and complex flavor that is slightly sweet with a hint of tart fruit and subtle floral notes. With a rich dark green color from the natural chlorophyll remaining in the oil, it's a good source of vitamin E and low in saturated fat, making it a healthy choice for homemade dressings, savory marinades, and gourmet sauces - see recipe below! It also has a high smoking point of 421°F and can be used for deep fried indulgences, sautéing, and baking. Definitely one of our favorites for its versatility and overall tastiness.
Curry Garlic Aioli Recipe
We're giving this Provençal tradition a spicy twist with aromatic curry powder and organic grapeseed oil. A wonderful party condiment, this aioli makes a savory dipping sauce or sandwich spread - and the golden color is stunning.
Ingredients
1/4 cup organic grapeseed oil
1/4 cup organic olive oil
1 large free-range organic egg yolk
1 organic garlic clove, finely chopped
1/2 tsp to 1 tsp organic curry powder
1/4 tsp sea salt
fresh-squeezed lemon juice to taste
freshly ground organic black pepper to taste
Directions
Using a mortar and pestle, mash the garlic and salt together into a paste. Whisk the paste into the egg yolk in a bowl until well blended. While whisking constantly, slowly drizzle in about 1 teaspoon of grapeseed oil at a time, until the mixture becomes thick. Still whisking constantly, add the olive oil to the mixture in a slow steady stream. Stir in the curry powder and season with lemon juice, pepper, and more salt to taste. Refrigerate in a lidded jar to store. Dip, spread, and enjoy!