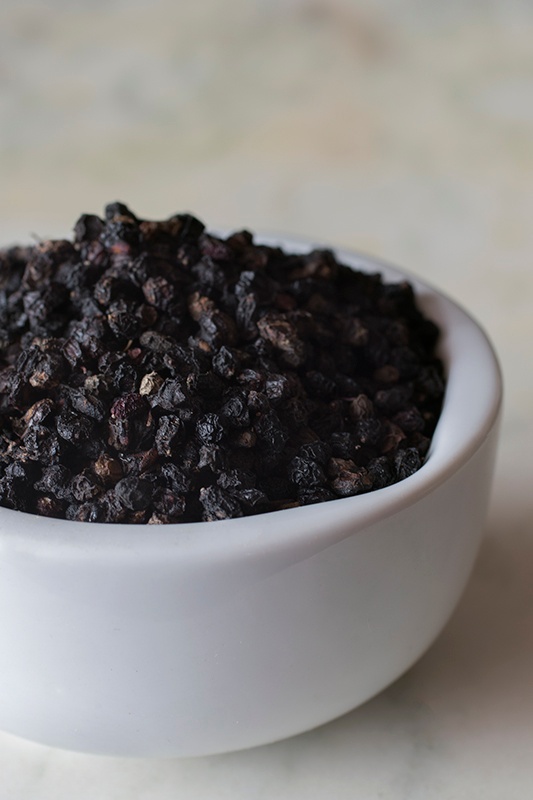 Elder is one of our favorite wintertime herbs! Found growing in moist areas along rivers, roads, and in forests, this immune supporting botanical is native to Europe, Northern Africa, and Western and Central Asia. Its flowers and berries have a long history of use in traditional European remedies. Native Americans have also used the flowers, berries, and bark of Elder trees for hundreds of years.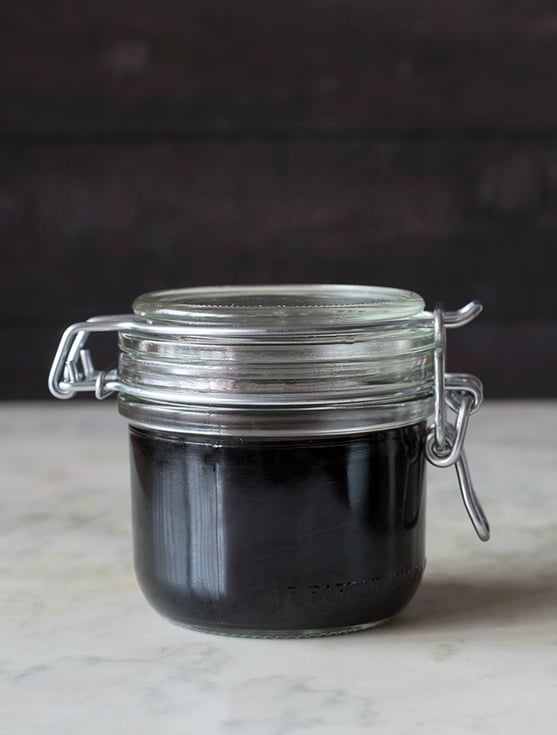 Elder berry syrup is a wonderful remedy for wintertime and offers antioxidants, potassium, beta carotene, calcium, phosphorus, and vitamin C. For children under two, add the syrup to hot water to kill any microbes in the honey. You can even drizzle the delicious syrup over pancakes, yogurt, or ice cream!
Elder Berry Syrup Recipe
Ingredients
Directions
Place berries, water, and spices in a saucepan.
Bring to a boil, reduce heat, and simmer for 30 minutes.
Smash the berries to release remaining juice and strain the mixture.
Allow liquid to cool and stir in honey.
Will last for 2-3 months stored in the fridge.
Elder Berry-Plum Sauce
This delightful recipe comes from our friends at Herb Companion. The spicy sauce can be served hot or cold. Use it as you would applesauce - it's a delicious topping for poultry, winter squash, ice cream, or puddings. The recipe calls for fresh elder berries, but you can substitute dried berries - just reduce the quantity by half.
Ingredients
Directions
Put fruits in a medium-size pan, along with water, honey, cinnamon and cloves.
Bring gently to a boil, then reduce heat and cook until fruit is soft.
Melt butter in a saucepan and gently brown at a low temperature.
Put fruit through a food mill to remove most of the Elder berry seeds. (Some seeds will remain.)
Return pureed fruit to pan, add butter and cornstarch mixture.
Bring to a boil, reduce heat, then cook at a low temperature for 5 minutes. Remove from heat and serve or bottle and store in refrigerator.
Makes 3 to 4 cups.
Recipe reprinted with permission from The Herb Companion magazine, a division of Ogden publications.
Recipe written by Margie Gibson. Margie Gibson writes about food, culture, history and natural history. Previously, she worked at the Smithsonian National Zoological Park, where she wrote about wildlife.
Read Article: Elderberries: Grow, Cook, Heal with Elder

Elder Berry Vinegar
In this recipe, MaryJane Butters shows how to turn ordinary vinegar into an indulgent treat! Try this gorgeous purple concoction paired with a mild oil and drizzled over some tender greens and edible flowers, like nasturtiums. The recipe calls for fresh elder berries, but you can substitute dried berries - just reduce the quantity by half.
Ingredients
Directions
Use a fork to lightly mash the berries (omit this step if using dried berries).
Place all the ingredients in a heavy-bottomed, nonreactive saucepot over low heat.
Once the mixture has started to simmer, cook it for an additional 10 minutes, stirring occasionally to prevent the fruit from burning.
Pour the mixture into a glass jar with a screw-on lid and store in a cool, dark place for three weeks.
Using a fine mesh strainer lined with a coffee filter, separate out the berries.
Use a wooden spoon to push on them and extract as much juice as possible.
Pour into pretty bottles and garnish with a few whole berries, if you like.
Recipe reprinted with permission from The Salt Lake Tribune. Recipe written by MaryJane Butters. A wilderness ranger, carpenter, environmental activist, and modern-day organic farmer, MaryJane Butters is the author of three Random House books and publishes her own magazine, MaryJanesFarm. In addition to running her farm and the "Farmgirl Sisterhood", she cultivates future organic farmers in her Pay Dirt Farm School and writes a syndicated newspaper column for United Media.
Read the article: Add Vim to Vinegar with Fresh Herbs and Fruits
Enjoy!
~ irene