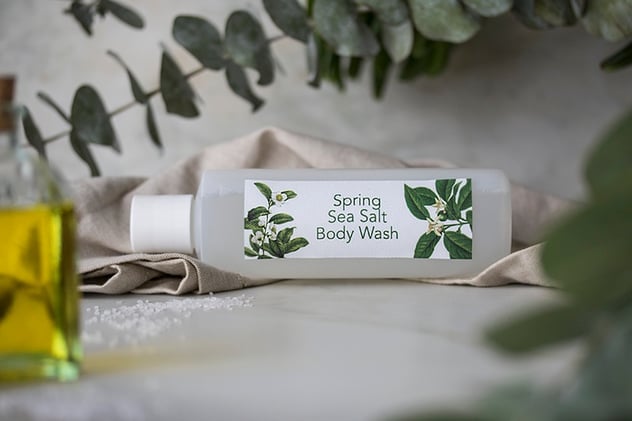 Purchasing body wash from the store might sound like an easy task, but sometimes it just isn't. Researching ingredients, reading labels, re-reading labels, and considering company politics, I always want to use my wallet as a vote for a healthier world. As I've gone through my exploration of soaps and body washes I've come to love organic castille soap. If you properly dilute castille soap with water you only need to purchase one large bottle every couple of weeks or months, depending on the size of your family.
Finding a great organic castille soap is a huge transition point for so many people looking to fill their cabinets with natural body care products. However, only using castille soap for a bit, I started to miss those lovely floral or woodsy scents, as well as the extra moisturizing ingredients. We shared a Midwinter Body Wash recipe on our DIY Holiday Gift Guide and it got me hooked on this basic recipe as a way to incorporate botanical properties in a convenient preparation.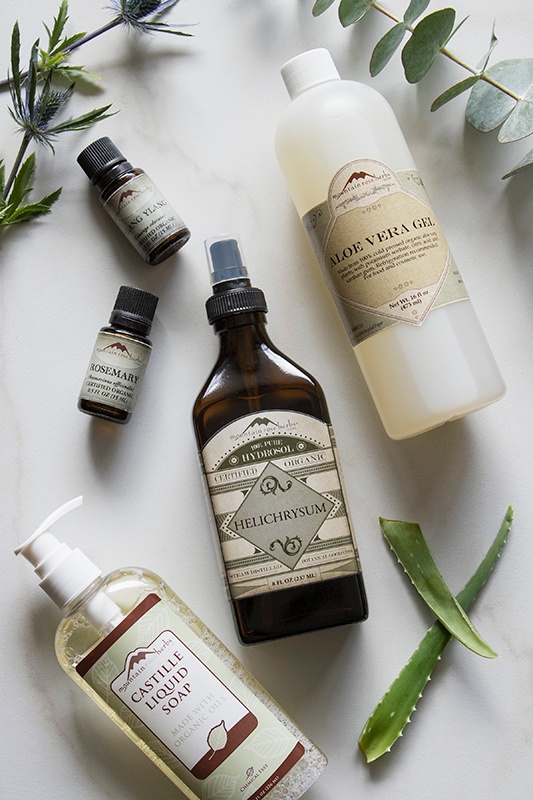 Basic Body Wash Recipe
This is a great base recipe for getting super creative with your own unique body washes for yourself, your family, or as an easy gift idea. The recipe below uses helichrysum hydrosol, rosemary and ylang ylang essential oils, and argan oil.
Helichrysum: This is one of our new hydrosols and I've been very excited to use it! This divine hydrosol rejuvenates and soothes skin. It has a unique dry-green floral aroma with earthy tea-like back notes that I just love.
Ylang Ylang: Definitely one of my favorite essential oils for unwinding after a long day! The scent makes me feel rich and the aroma is just that, rich, sweet, and floral.
Rosemary: Rosemary is great for starting your day or putting a big of pep in your step after a long day at work. The aroma is strong, fresh, camphor-like with a woody balsamic undertone.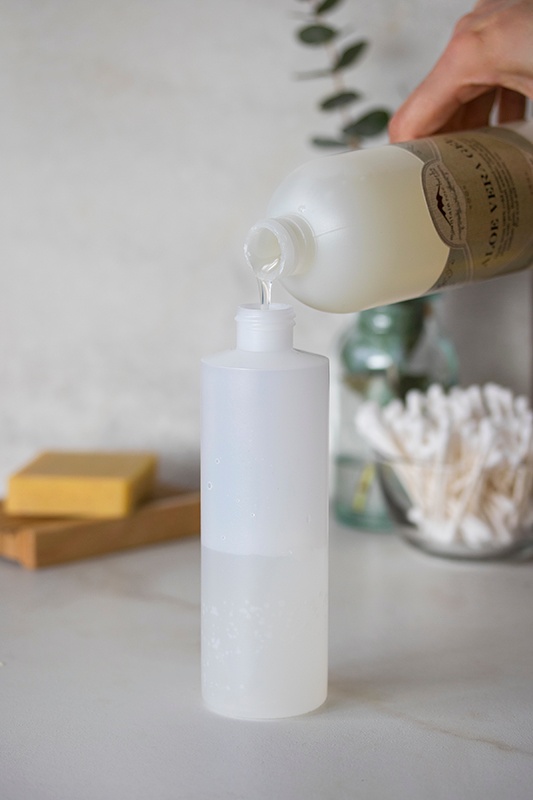 Spring Sea Salt Body Wash Recipe
Directions:
A note before I begin:
Many people ask how to thicken castille based recipes. While you can enjoy the natural thinner viscosity that is inclined to separate, there are a few natural ways around this, and salt is known to be one of them. While getting it just perfect does take some experimentation, it will thicken the mixture. Depending on the essential oils used, and the ratio of water to castille soap, it might stabilize to the point of not separating. As a bonus sea salt helps to improve a sudsy recipe like this. If you choose to use sea salt in your recipe, make sure to dissolve it completely in your water mixture first. Skipping this step will make your soap clumpy! Remember that because your soap made with all natural ingredients, it wont look exactly like store bought products, but it will feel and smell amazing!
If adding salt: In a pyrex measuring glass dissolve 1 tsp sea salt with 3 oz of helichrysum hydrosol. Dissolve completely.
Add your aloe vera gel, oils, essential oils, and mix up. It's ok if the oils are separating. That should happen!
Add in castille soap. It might get really chunky, but that is ok for now! Just keep mixing.
*If you find the mixture is too thick or thin, you can use less salt to make it thinner and more salt to make it thicker. The key to getting a good mixture is the thickening reaction between the castille soap and the salt, so adding a little more castille soap might also help. The thicker you prefer your body wash recipe, the more important it is to use a flip top bottle rather than a pump, as it get's difficult to pump thicker mixtures. The thicker the body wash turns out to be, the more likely you will need to use a spoon and a funnel to get your mixture into the bottle.