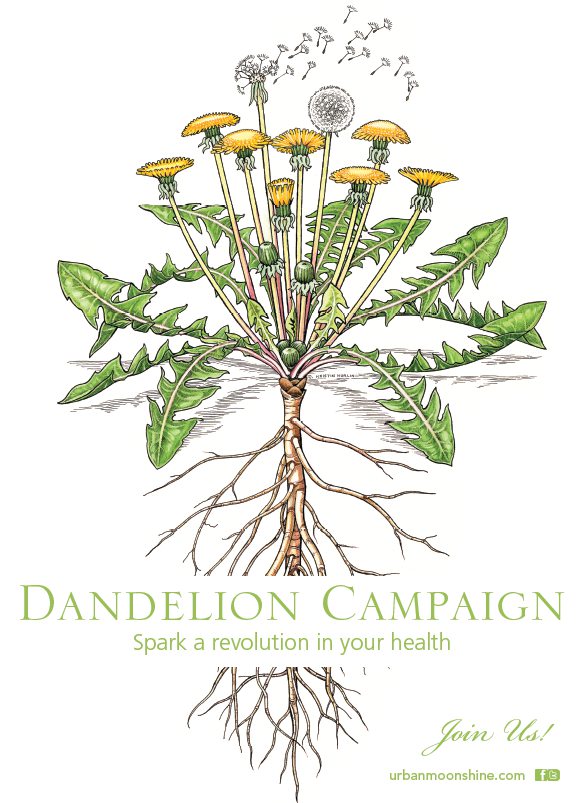 Have you heard about the Dandelion Campaign by our friends over at Urban Moonshine?
Just in time for spring, they are celebrating the many medicinal and nutritive benefits of common garden weeds. Yep…like the incredible edible dandelion featured in our wild foods video! Often viewed as pests, these helpful plants offer an easily accessible apothecary in our own backyards. As part of this fun campaign, Urban Moonshine is also offering a free herbal tele-lecture online and they've partnered with us for a giveaway featuring herbal tonics and bitters!!!
But first, why the dandelion?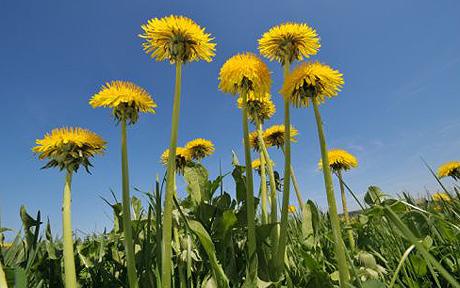 The Common Dandelion (Taraxacum officinale) :: Backyard Apothecary
by Jovial King of Urban Moonshine
You may see them as weeds, but I invite you to take a second look at dandelions from an herbalist's point of view. In fact, this common weed is a welcome sign of spring for localvores and herbalists alike. First the green leaves poke through the dark wet earth, then the cheerful yellow flowers spring forward to the sunshine. The whole plant is a prized springtime edible as well as a bitter medicinal tonic. Dandelion and other bitter tasting herbs are excellent for the digestive system.
Tasting the bitter flavor sparks the digestive system and encourages the release of bile, digestive enzymes and other gastric secretions. Why is that so? Well, think about it- since the beginning of time up to around 150 years ago we foraged for much of our food, ate off the land or out of a garden. Prepackaged sweet and salty supermarket food? Not so much. That is basically a radical experiment being undertaken by our generation. What grows in the garden, wild in the woods and fields? Bitter tasting plants - bitter greens, bitter barks, bitter berries, bitter roots -- our traditional diet was full of bitter foods and we have evolved accordingly. In a way, human beings are built on bitters! The flavor of bitter to the taste buds equals FOOD! Time to eat! Time to digest! Bitter is literally "sexy" to our digestive system, it turns it on, juices it up, and gets it ready to rock. By eating bitters around or with a meal we keep our digestive system in a state of engagement, excited and challenged. Try a bitter green salad, chomp down on a fresh dandelion green from your yard as you walk up to the house after work, or check out our Urban Moonshine organic digestive bitters. There are many ways to get the bitter taste into our everyday diets!
The root of good health is great digestion. The stronger and healthier your digestive system, the more nutrients you will receive from your food and the less digestive drama occurs around mealtime.
Dandelion root is also known as an effective liver tonic with the ability to help the body in its detoxification process. Dandelion has a strong will and feisty spirit and will grow in the toughest conditions from a city sidewalk crack to a chemical-laden yard. That strong will to survive is telling of the role it plays in its environment. Dandelion does a spectacular job of cleaning up toxicity in both the environment it dwells in and the human body. Not to mention the joy it gives to children when they blow the white globe of seeds into the wind. How smart of the plant to make it fun for people to spread its seeds!
The Giveaway!
We want to know how you plan to use garden weeds this year to spark a revolution in your health!
Two winners will receive these amazing herbal goodies…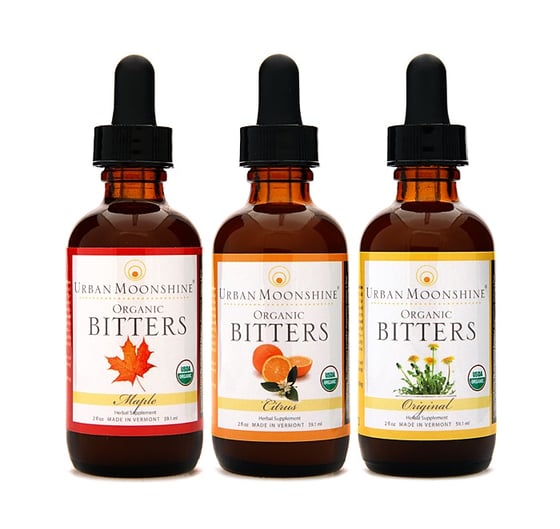 Organic Herbal Bitters
The first prize up for grabs is this beautiful collection of certified organic herbal bitters by Urban Moonshine to help enhance your digestive prowess. Packed with the goodness of dandelion root (and other supportive weeds), you only need a drop or two to benefit from their digestion stimulating action. These bitters also make a tasty addition to your favorite cocktails or soda!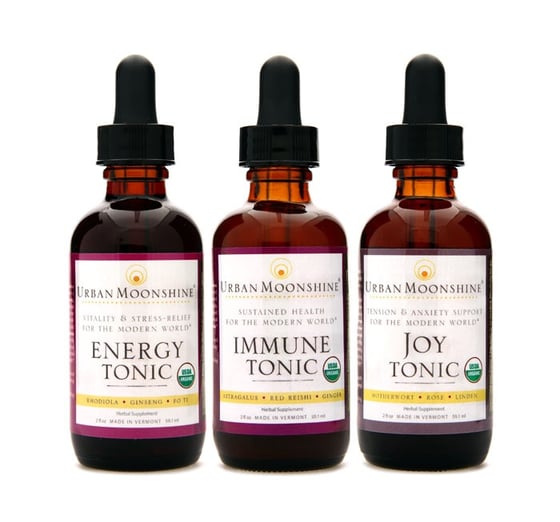 Organic Herbal Tonics
The second prize is this amazing collection of herbal tonics to help naturally boost energy, strengthen your immune system, and inspire calm in stressful situations. Made with a blend of adaptogenic and nervine roots, mushrooms, leaves, and flowers, these tonics can be used daily to help build your health over time. Urban Moonshine's tonics are formulated with organic herbs, organic grape alcohol, and pure spring water.
---------------------------------------------------------------------
And the winners are. . .
Comment# 378
Congratulations to MtnHarmony! You've won the set of herbal bitters from Urban Moonshine!
Comment #127
Congratulations to ShannonMarie! You've won the set of herbal tonics from Urban Moonshine!
We'll be sending an email your way with additional information.
Big thanks to everyone for sharing your stories, tips, ideas, and dandelion love!
How to Enter
There are several ways to enter the Dandelion Campaign Giveaway! You can submit up to 5 entries for a chance to win these prizes from Urban Moonshine...
1. Leave a comment here telling us about your favorite garden weed and how you plan to use it this year. Help us cultivate the revolution!
2. Post a link to our Dandelion Campaign Giveaway on your Facebook page and leave a comment here to let us know you've shared.
3. Tweet about our Dandelion Campaign Giveaway on Twitter using the hashtag #dandelionlove and leave a comment here to let us know that you've tweeted. Be sure to follow MtnRoseHerbs and UrbanMoonshine on Twitter!
4. Like Mountain Rose Herbs and Urban Moonshine on Facebook!
5. Subscribe to our awesome YouTube channel or recipe-packed newsletter and leave a comment here to let us know!
You have until Monday, April 16th at 11:59pm PST to enter. We will pick two winners at random on Tuesday, April 17th. Prizes can only be shipped within the US!
Good Luck!