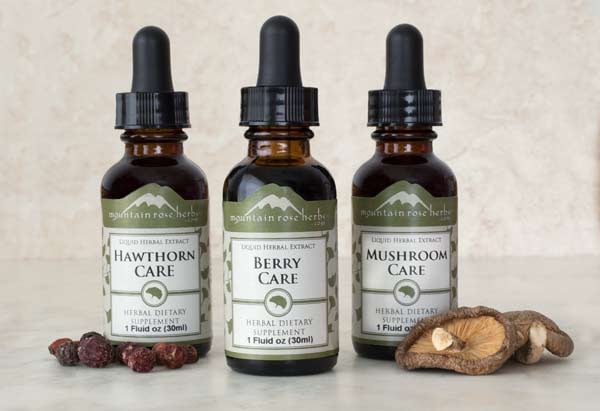 We are happy to add three new blends to our line of combination extracts:
Berry Care Extract, Hawthorn Care Extract, and Mushroom Care Extract.
Our new Berry Care Extract contains wildharvested maqui and hawthorn berries, as well as certified organic bilberries. All of us can use more berry power in our lives. These fleshy treasure troves of wellness offer us a natural source of antioxidants such as polyphenols and anthocyanosides that are present in the deep pigments of the fruit. In addition to these health-enhancing benefits, this is also one of the best tasting extracts that we have!
Our Hawthorn Care Extract was formerly known as our BP Care extract, and still contains the same formula of wildharvested Hawthorn berries, and certified organic Milky Oat tops, Motherwort, and Cayenne pepper. This extract is formulated with herbs traditionally used to support normal circulation and cardiovascular health, and also nurtures the more spiritual aspects of the heart center, allowing us to offer undiluted love to all beings while maintaining our healthy personal boundaries.
Our Mushroom Care Extract is formulated for all the lovers of mycelium in the world. Medicinal mushrooms contain a slew of qi-enhancing properties, and have been used for thousands of years for food and medicine in China and Japan. This formula contains certified organic Reishi and Maitake mushrooms as well as wildharvested Chaga mushrooms. These mushrooms are double extracted in both water and alcohol so that all of the medicinal properties make it into the bottle.
Please click here for more information on our entire line of Combination Extracts.
*DISCLAIMER: For educational purposes only. This information has not been evaluated by the Food and Drug Administration. This information is not intended to diagnose, treat, cure, or prevent any disease.