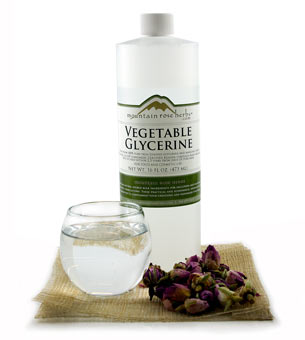 We are immensely excited to introduce our latest newly-organic product: Certified Organic Vegetable Glycerine! Made from certified organic soybeans, this pure, wonderful glycerine is a valuable and versatile ingredient. As far as we know, Mountain Rose Herbs is the first company to offer retail size bottles of certified organic vegetable glycerine. Now it's not just large companies that can access organic glycerine—it's you and me, too!

Those who make their own glycerites (herbal extracts using glycerine) now have the option of making them 100% organic. For people with alcohol sensitivities, glycerites are a wonderful alcohol-free alternative to traditional herbal extracts.

Home crafters of natural body care products with recipes calling for glycerine are also now empowered to create 100% organic blends. As a natural emollient, glycerine helps the skin retain moisture and actually pulls oxygen into the skin.
Three cheers for organic ingredients!

--Jessie