Native pollinators are essential for ecosystem balance and ultimately for our survival. More than the food that feeds us, bees and other pollinators help 85% of plants reproduce and grow the next generation of trees, flowers, and plants. It is sobering to consider a world devoid of nuts, seeds, and fruit that feed all life, from blue jays to bears.
Two-thirds of the food crops people eat every day require bees and other pollinators to produce a crop. These bees also ensure that home gardeners can produce fruits and vegetables to feed their families and grow flowers to enjoy.
By purchasing our deliciously floral Pollinator Tea, you're supporting pollinator recovery! Mountain Rose Herbs will donate 5% of the annual sales from this special blend to Beyond Toxics and their campaign to save the bees.
Why is Mountain Rose Herbs supporting Beyond Toxics?

Beyond Toxics was the first non-profit in Oregon to take action to change the way we think and act about protecting bees! Beyond Toxics worked with local city officials to enact a ban on the use of harmful insecticides on public parks and city property. Why?
Seven separate insecticide applications in the summers of 2013 and 2014 caused the death of no less than 100,000 bees and affected many hundreds of colonies in Oregon. State investigations identified neonicotinoids, the most widely used group of insecticides in the world, as the poison that killed bees at the sites. This class of pesticide is highly toxic to honey bees, as well as many native pollinators.
Neonicotinoids, often called neonics, are systemic pesticides that are taken up through roots and leaves and distributed throughout the entire plant. The poisons also contaminate the pollen and nectar. Not only can neonics poison bees directly, but they can be brought back into the hive, thereby further poisoning newly born bees, honey, and pollen.
Beyond Toxcis led the way to help other cities ban the use of bee-killing pesticides. Thanks to their vision to Save Oregon's Bees, the City of Eugene became the first in the nation to ban neonics to protect bees in 2014. Soon thereafter Portland, Canon Beach, Sherwood, Seattle, Olympia, and Spokane banned neonics on city property. However, city governments can't do this alone! Each one of us needs to step up and "Join the Hive!"
Mountain Rose Herbs is supporting Beyond Toxics' projects to get people involved in planting bee-friendly landscapes and help low-income neighborhoods start organic community gardens. When more of us pledge to become friends of the bees, we're planting the seeds of an organic future where living things thrive and the earth is in balance.
Let's sip tea and support their work together!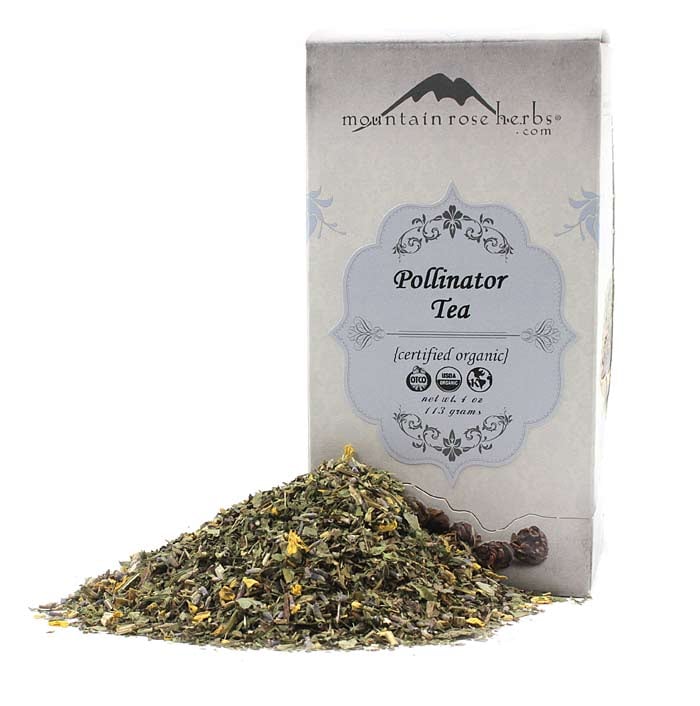 Our Pollinator Tea blend consists of organically-grown herbs loved by bees and other pollinators that can be found in the Cascadian bioregion we call home. Sweet with abundant floral notes, this delicious herbal tea can be enjoyed either hot or iced and is a favorite of children as well. Add a dollop of local honey to show your support for the bees and beekeepers of your area.
Learn more about Mountain Rose Herbs' sustainability initiatives on our website!