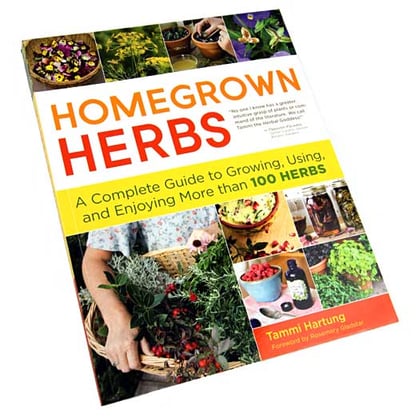 Shared knowledge is one of the most powerful gifts that you can give or receive. It is empowerment, illumination, and documentation that ensures the wisdom we have gleaned from our collective experiences will live on for the generations that come after us.
Thanks to the intellectual generosity of some noted herbalists, aromatherapists, holistic veterinarians and botanists, we now have access to thousands of years of accumulated herbal wisdom, experience, plant lore, and history in meticulously researched and skillfully written books.
One of my favorite books is Homegrown Herbs by Tammi Hartung. This is a wonderful large format guide to planting, growing, harvesting, and using more than a hundred popular herbs. It provides in-depth instructions for all aspects of growing and using herbs including garden design, natural pest control, harvesting techniques, medicine making, and spicy recipes. With a forward by Rosemary Gladstar, this gorgeous full color book will be appreciated by gardeners and herbalists of all experience levels.
And that's just one of the many books we carry! We truly have something for everyone, so be sure to explore our shelves for a good read.