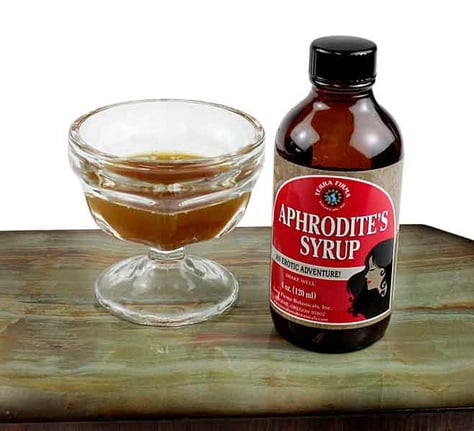 Just in time to share with your sweetie...
We're excited to bring you Aphrodite's Syrup from Terra Firma Botanicals!
This sensual, sweet tasting syrup has just the right hint of cinnamon, and is full of traditional aphrodisiac herbs. It makes a tasty addition to coffee, an exotic topping for a bowl of ice cream to share, and is just as wonderful by the spoonful! Contains: unfiltered Pacific Northwest honey along with organic and respectfully wild harvested herbs: Damiana leaf, Cinnamon bark, Kola nut, Kava Kava root, Rosehips, and Vanilla. Contains 5% certified organic grain alcohol by volume.
Click here to see our full line of syrups, elixirs, and tonics including River's Rhapsody Chocolate Elixir and Joy Tonic.