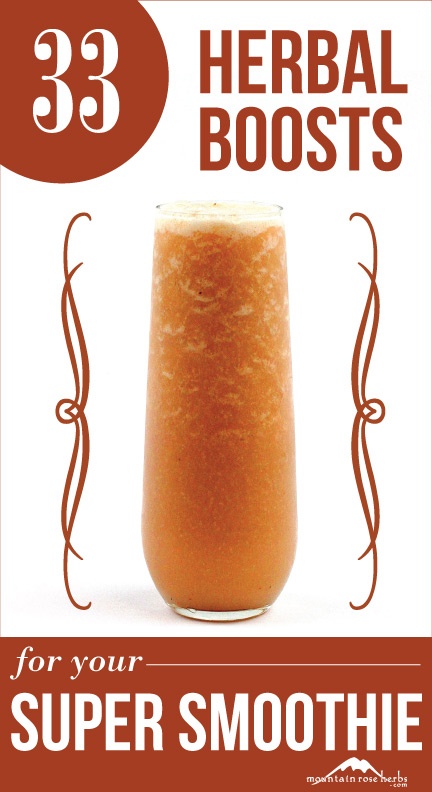 Here's a question we've heard a lot from our Facebook and blog friends:
"What's the deal with powdered herbs and how can I use them differently from cut and sifted herbs?"
There are a number of different ways you can use powders, but one really awesome thing about powdered herbs is that you can easily add a bit of herbal magic to your smoothies!
The herbs listed below are often called superherbs, superfruits, or super foods - although, we think all plants are pretty super! However you choose to define them, be sure to do your own research to see how they will best fit into your daily health regime. It's always a good idea, and fun, to diversify. So, with that said, I'm excited to offer my master list to help you herb up your smoothie!
Here's the master list of herbal boosts for your super smoothie!

Acai Powder - Acai berry is relatively new to the US and has quickly become a popular fruit used in smoothies, sorbets, capsules, and juices. This amazing fruit powder is certified organic and quickly freeze dried after harvest.

Amla Powder - This is a dried and pulverized berry of a sacred tree in India known for having a sour, bitter, and astringent taste. The dehydrated Amla pieces will easily re-hydrate in water, creating a fibrous texture similar to dehydrated apples with a much tarter taste. You could also use the whole dried berries to make a juice as a base for your smoothies. This berry is commonly used in Ayurvedic medicine practices and is considered a cooling pitta herb.
Barberries (juice base) - These dried, red Berberis berries are often used in Persian and Afghan cooking, or made into jam or pickles. Super tasty berry power!
Bee Pollen - Bee pollen has a long and storied past throughout human history. Hippocrates and Pythagoras both prescribed bee pollen for its properties. Bee pollen has a complex flavor that's sweet, spicy, and floral with hints of honey.
Beet Root Powder – Beets have been used since the time of the Romans and was popularized by the French for its culinary value. The natural sugar content makes this powder a great sweetener!
Bilberries – A close relative of the blueberry, cranberry, and huckleberry, bilberries have a wonderful blue/purple color which has earned them a rich traditional history.
Cacao Powder – Who doesn't love chocolate? The Mayan, Olmec, and Aztec civilizations used the entire cacao fruit.
Camu Camu Powder – This fruit from the Amazon rainforest is attracting the attention of many. Camu camu has a highly acidic flavor that can be easily sweetened to taste.

Carob Powder - Made popular as a caffiene-free substitute for chocolate, carob powder was once deemed essential to the opera for saving the voices of performance-weary sopranos. This pea family pod has been used as a food source for over 5,000 years, offering dense nutritional value and a naturally sweet and slightly bitter flavor.

Cayenne Powder - The Capsicum family includes bell peppers, red peppers, and paprika, but the most famous members of the family are cayenne and chilies. Careful to use the slightest amount, unless you handle heat well! The capsaicin in these peppers has been used for its diaphoretic properties. Try freezing our Lemon Tea in an ice cube tray and then blending them up with apple slices, fresh greens, fresh ginger, and a 1/8 tsp of Cayenne Powder.
Chaga Powder – Chaga is a parasitic carpophores mushroom that looks like the charred remains of burned wood on the side of a birch tree (sometimes growing on Elm and Alder, but Birch is its favorite). Chaga is commonly made into a tea, taken by tincture, or put into capsules. Why not give your smoothie some mushroom power?
Chia Seeds – Chia seeds rule! They are great for making homemade puddings, gel juice, or easy jam recipes. They also rule in smoothies. Chia was a staple for Incan, Mayan, and Aztec cultures. "Chia" is the Mayan word for "strength" and Chia seeds used to be referred to as "Warrior Running Food".
Chlorella Powder - Some scientists believe these single celled algae may be among the Earth's oldest living organisms. Its bright green color would make it a perfect pair for leafy greens like kale or dandelion. You can also use it instead of fresh greens in your winter smoothie recipes!
Cordyceps Powder - Cordyceps is an adaptogenic mushroom and has been used to create stimulating tonics.
Cranberry Powder – A wonderfully flavorful herb, its fruity tartness and beautiful color is perfect for your berry filled smoothies.
Damiana Leaf Powder – This herb was historically used to celebrate weddings. Light floral taste with a spicy finish and lovely green color, damiana leaf powder would go great in a smoothie to help you deal with those day-to-day ups and downs we all experience.
Elderberry Powder - Elder flowers and berries have a long history in traditional European herbalism. Elderberries are traditionally made into a syrup for ingestion during the fall and winter months. The berries have a gorgeous dark purple red color and a sweet and rich flavor. You can make a syrup with the berries to add to your smoothie or boil the powder in some water and add to your liquid base.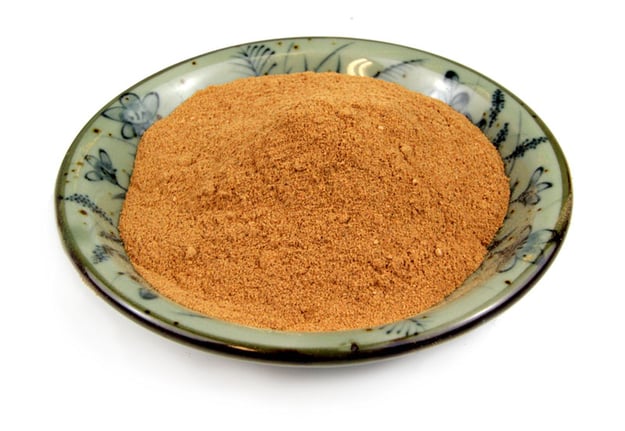 Flaxmeal – Flax seed is an important and very popular ingredient found in the world of herbal health foods as it contains fiber. Add some to your smoothies or use the meal in bread and muffin recipes!
Garcinia Fruit – This dark red fruit can be rehydrated and blended up with your smoothie base. It has a distinct sour fruit flavor.
Guarana Seed Powder – Guarana contains caffeine so use sparingly. A lovely addition to your morning smoothie!
Hawthorn Berry Powder - The fruit of this rose family tree has been used traditionally in jams and syrups and will make a fine addition to your smoothie.
Hemp Seed - With a lightly nutty flavor, hemp seeds make a great addition to any smoothie!
Hibiscus Flower Powder – A beautiful flower with a tart taste. Hibiscus is used as one of the main ingredients in many tea blends for its color. Try it in a smoothie.
Kava Root Powder - A beloved herb. Pacific Islanders have for centuries used Kava.
Lycii Berries - A great way to sweeten your smoothies is to soak a handful of these dehydrated berries in water or milk overnight. In the morning, toss the combination into your blender with fruit or veggies! Lycii berry, otherwise known to Chinese herbalists as Goji or Chinese Wolfberry is bright red and almost chewy with a taste very similar to raisins. It has been used as a general Yin tonic for many years in TCM tradition.
Maca Root Powder - Maca is traditionally prepared as a staple food, particularly in South America where it grows.
Maqui Berry Powder – These berries taste tart like huckleberries and contain antioxidants. It is documented that Macqui berries have been used by the Mapuche natives of Chile and Argentina for centuries.
Milk Thistle Seed Powder – Three of the active compounds within milk thistle seed are collectively identified as silymarin. This constituent is credited for much of milk thistle's beneficial value, particularly associated with supporting healthy liver function.*
Rosehips – Rosehips have a tart flavor and are widely used in jams, jellies, and teas.
Spirulina Powder – A slightly sweet earthy taste, this powder is great taken in capsule form or as an addition to your daily smoothie.
Wheat Grass Powder – If you are unable to grow your own, a powder is an easy addition to your super smoothies!
Yacon Root Powder – This root is commonly made into a sweet syrup or extract. In powder form, yacon root makes an excellent addition to your blended beverage. It is thought to be one of the "lost crops" of the Incas, who were known to cultivate it and who considered it an important food crop. The fresh root is small and similar in appearance to a potato, and is said to taste similar to a cross between celery and Granny Smith apples.

* DISCLAIMER: For educational purposes only. This information has not been evaluated by the Food and Drug Administration. This information is not intended to diagnose, treat, cure, or prevent any disease.