If you pass through the Mountain Rose Herbs employee bicycle barn or parking lot, you'll notice that many of our vehicles—whether two-wheeled or four-wheeled—are sporting fun and artistic vinyl stickers with messages like "Kiss Me, I'm Organic", "Pesticides Suck!", or "Make Tea Not War". These astute little decals come from the Mountain Rose Herbs sticker collection, which just received 2 new additions!
The new "I Dig Herbs" sticker measures 4" X 4". A clever shovel-with-herbs graphic shows the double meaning of the statement.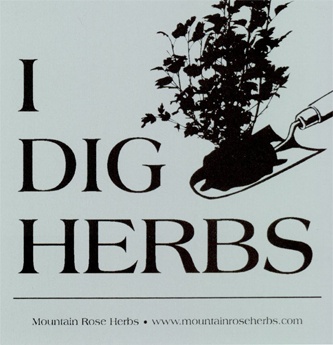 The new "Support Organic Agriculture" sticker is a fresh take on a slogan we already use on another sticker. This one is square-shaped, measures 2.75" x 2.87", and features a powerful fist clutching a handful of herbs.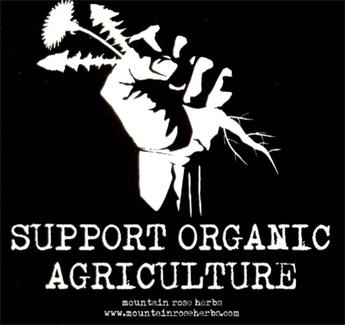 Our stickers are waterproof and sturdy, and can be adhered to just about anything you can think of. Vehicles, bikes, water bottles, notebooks… and the list goes on! At $1 or less per sticker, it's an easy and inexpensive way to show your organic and herbal pride. They also make great little gifts, so be sure to add a few to your next Mountain Rose order to share with friends!
Cheers!
--Jessie