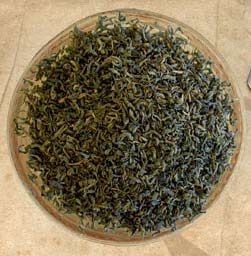 Are you a fan of New Year's resolutions? Many of us vow each January to take better care of ourselves in some way. In 2012, I'm resolving to drink more green tea!
A source of antioxidants and other healthful properties, green tea is believed by many to be one of the most beneficial beverages one can drink. Its rich history and wide use in China and Japan demonstrate its status as a beloved and revered brew, not only as a delicious drink, but also as a traditional treatment for a wide range of illnesses. I like to think of it as preventive medicine in a mug!
Delicious and refreshing, this versatile beverage can be prepared hot or iced, sweetened or unsweetened, with nut or dairy milk—there are so many tasty ways to enjoy it! Mountain Rose Herbs offers a plethora of green tea varieties—including my personal favorite, Jasmine Green.
Happy New Year!
--Jessie