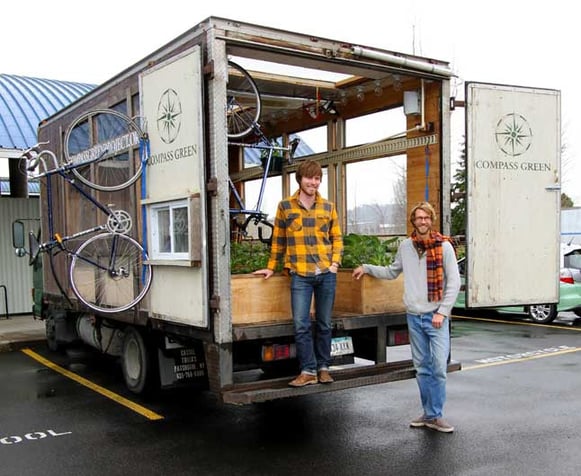 We welcomed some very special visitors to Mountain Rose yesterday!
Nick and Justin of the Compass Green Project brought their incredible mobile greenhouse for us to check out, alive with a lush garden of edible greens.
This food growing, veggie oil running, composting education truck visits schools, health food stores, and other community centers around the country to teach practical farming tools and raise awareness about sustainability through presentations and workshops. The curriculum is focused on organic and bio-intensive methods of sustainable farming to produce the maximum yield with the minimum amount of resources. Happily growing on the bus were beds of organic kale, chard, spinach, lettuces, amaranth, stinging nettles, quinoa, and more. If they can grow it on a truck, you can grow food too!
"With an ever-increasing population and an alarming decrease in farmable soil, we feel it is important to share practical solutions to turn our situation of agricultural scarcity into one of abundance." - Nick and Justin
To learn more about the Compass Green, donate to the project, or invite them to your town, visit their website!