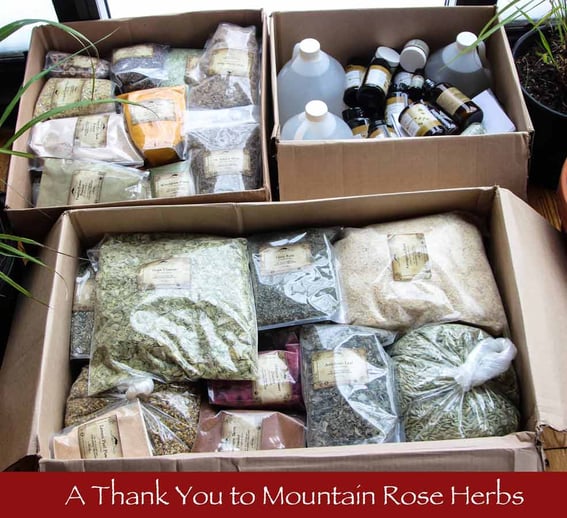 All of us here at Mountain Rose are so happy to be able to support the important healing work herbalists like 7Song bring to communities around the country. A few days ago, he sent us this photo along with a sweet message of thanks for our donation of herbs and supplies to the Ithaca Free Clinic...
"As many of you know, I work as an herbalist (and the fancier title of Director of Holistic Medicine) at the Ithaca Free Clinic. I write about it fairly often as I am very appreciative to be working there along with many other caring individuals. It is a mix modality clinic with doctors, herbalist, nurses, acupuncturists and others offering their services for free.
While the consultations and herbal preparations are free for the patients, there are of course costs from my side. Alcohol and other menstruums for herbal preparations, the time to gather and process plants, jars, scales, labeling gear, equipment and other expenses. I am not complaining, I feel very fortunate to be working there and it has added immeasurably to my skills as an herbalist.
Okay, enough about me, what I want to say in my usual long-winded fashion is Thank You Mountain Rose Herbs! who have been very generous with their donations to the clinic. And while I am loathe to endorse companies, I really want folks to know how they are helping keep my patients with their herbal medicines. This photo is the most recent shipment of supplies, which has made me want to give this public appreciation for all they offer for the Ithaca Free Clinic. So once again, thank you all at Mountain Rose Herbs." ~7Song
Thank you, 7Song!