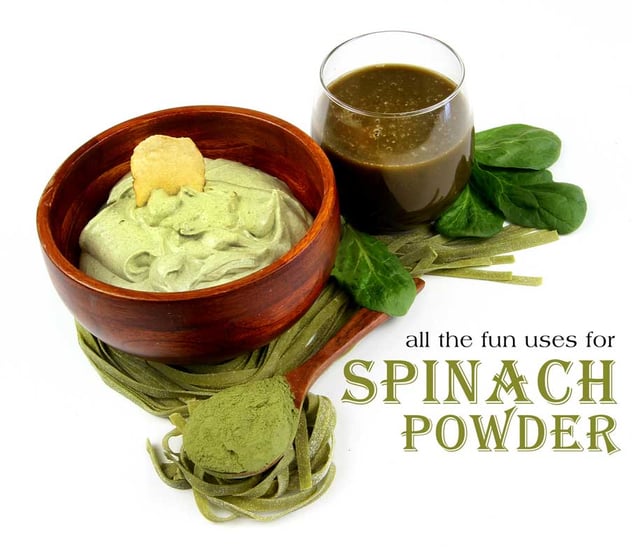 Oh, spinach powder. How do we love thee? Let me count the ways...
As the famous cartoon sailor Popeye taught us in childhood, spinach is truly a nutrition-packed power green. You can look to Spinach as a source of chlorophyll and antioxidants, vitamins A, C, E, K, B2, and B6, magnesium, manganese, folate, iron, calcium, potassium, folic acid, phosphorus, zinc, niacin, selenium, omega-3 fatty acids, and the list goes on and on!
This dense combination of vitamins and minerals makes spinach a potent ally. Studies show that this popular green has lots of health benefits. Plus, we know for a fact that spinach is delicious.
Spinach is thought to have crossed the ancient seas of Persia as traders brought spinach to India and China. This nourishing plant wasn't enjoyed in England and France until the 14th century, where it was quickly prized as an early spring green. In fact, the queen of France fell so deeply in love with spinach that she demanded it be used in every dish, coining the term "Florentine" to honor her birth in Florence. Of course, these culinary traditions of Europe were introduced to the Americas and spinach has become one of the most widely consumed veggies today.
Dried spinach powder is an amazingly versatile ingredient that everyone should keep handy! It allows you to incorporate green goodness in an instant. Here are a few of our favorite spinach powder tips, tricks, and recipes!
~ Spinach powder can be used to replace some of the flour in breads and baked goods. Replace up to 1/4 cup of flour with dried spinach powder in your favorite recipe.
~ Spinach powder can be used as a natural food dye or to color handmade soap.
~ Spinach powder can be mixed with equal parts kelp powder to make a skin nourishing face mask. Some people swear by its puffiness and redness reducing power.
~ Spinach powder can be encapsulated for convenient use.
~ Spinach powder is a good way to sneak some leafy greens into your picky eater's diet.
Try using Spinach powder to make this deliciousness…
Homemade Spinach Pasta Noodles
Homemade Spinach Tortillas
Spinach Pizza Crust
Falafel
Hummus
Green Egg Scrambles
Green Pesto Mashed Potatoes
Green Smoothies
Spinach and Garlic Dip
Popcorn Seasoning
Veggie Casseroles
Quiche Florentine
White Bean Soup
And how about a Bloody Mary with a little spinach powder too? Mmmm!
There are just a few things to consider before tossing spinach into every meal. One is that many spinach crops are doused with pesticides and spinach is often listed as one of the "Dirty Dozen" to avoid. That's why it's incredibly important to find a certified organic source. Our spinach powder here at Mountain Rose Herbs is certified organic, grown in the USA without chemical pesticides, and is tested in our Quality Control lab for E.coli and salmonella. Also, spinach is high in oxalic acid, so anyone with kidney stones should check with their doctor before digging in.
Spinach is a darling of the ages full of delicious possibility and health benefits, so sprinkle away and savor the power of green!