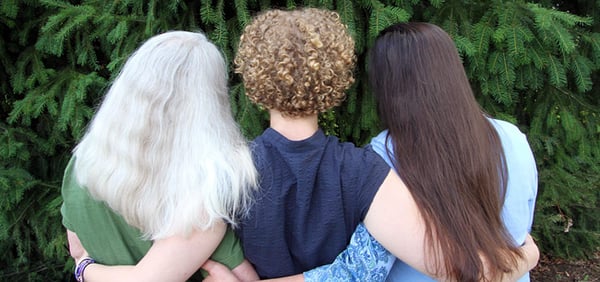 Oil treatments help to deep condition your hair from root to tip while stimulating the scalp and strengthening individual strands. Infusing oil with the healing benefits of herbs like rosemary and calendula makes this luxurious treatment wonderful for normalizing either dry, itchy scalp or oily conditions. To learn more about herbal hair health, check out the book Earthly Bodies, Heavenly Hair by Dina Falconi.
Ingredients
1 Tbsp organic Rosemary Herbal Oil
1 Tbsp organic Calendula Herbal Oil
5 to 10 drops cedarwood or orange essential oil (optional)
Directions
Mix the oils together in a glass bottle and shake well. Fill a separate bowl with near boiling water. Place the bottle in the bowl and allow the oil to heat slowly for a few minutes. Test a drop of oil on your wrist to check the temperature. Rub some of the oil in your fingertips and massage into the dry scalp starting at the front. Using a circular motion, work backward toward the crown and add more oil as needed until the entire scalp has been massaged. Next, massage oil into dry hair from the scalp to the ends using a gentle motion. Cover your hair with a shower cap or recycled plastic bag and wrap a hot damp towel around your head. Relax for 20-30 minutes before shampooing out. Enjoy your soft, beautiful hair!