With a fierce commitment leading the way and many dedicated employees, Mountain Rose has successfully implemented a number of aggressive policies to lessen our environmental footprint. Our ambitious Zero Waste policy plays a large role! Thanks to the hard work of our Zero Waste Team, led by Master Recycler, Troy, we are able to make use of virtually all of our company waste.
After introducing our Zero Waste policy, Mountain Rose Herbs went from producing 3,300 gallons of waste per month, to 80-100 gallons per month. This is a huge reduction when you consider that 80-100 gallons is the standard amount of waste produced by a family of four. With 130 employees and four facilities, we're pretty proud of this accomplishment!
Sadly and far too often, "garbage" tossed into landfills is just an accepted part of life. Through our Zero Waste program, Mountain Rose Herbs hopes to eliminate waste completely. To accomplish this goal, all potential waste is evaluated for recycling, compost, and reuse.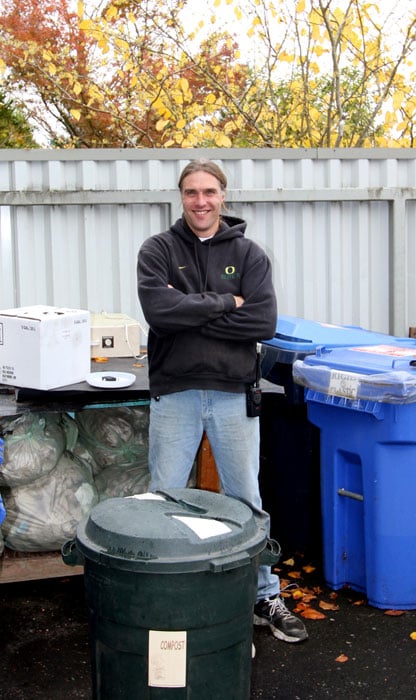 How do we turn waste into resources?
Used paper hand towels are collected for composting at a local facility
Office paper, press board, and scrap paper is recycled
Metal and plastic drums are cleaned for re-use or recycled
Oil from our bulk vegetable and carrier oils is collected for bio-diesel salvage
Electronic and computer components are taken to a local facility for salvage and disposal
Tin, steel, and aluminum is sorted for collection
Break room and staff waste is composted
Scrap plastics are reclaimed by a local facility to be melted down into saleable material
Scrap metal, steel, and iron is collected for melting
Cardboard and pressboard is recycled
Wood and unusable pallets are sent to be chipped for landscaping materials
Botanical refuse material is collected for composting at local nurseries
Styrofoam is sent to a re-claimer for re-use in shipping computers
Essential oil is collected for natural pest control products and natural weed killers
These are just a few procedures in place through our program. We want to follow the cycle of the natural world, which produces no waste and utilizes all resources to support life on our precious planet.
How do you reduce waste where you live and work?