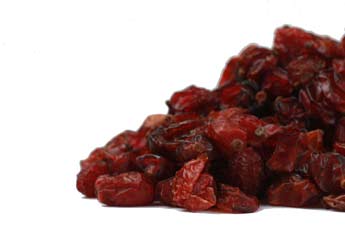 We're excited to introduce you to this brilliantly colored, tart little fruit: the Barberry! A source of citric acid and vitamin C, barberries have traditionally been used to help with some digestive problems, and skin irritations.
Tasty little barberries can be made into jellies and and are sometimes pickled. Perhaps the most popular culinary use for barberries is in Persian cooking, especially in the popular dish zereshk polo (Zereshk is another name for barberries). Here's a delicious version of zereshk polo from The Spice and Herb Bible by Ian Hemphill (don't forget that the oils, salt, saffron and turmeric can also be purchased on our web site):
1 tbsp (15 mL) salt
3 cups (750 mL) Basmati rice
6 tbsp (90 mL) olive or vegetable oil
1 medium onion, halved and thinly sliced
4-6 chicken thigh fillets, skinned and trimmed of fat
½ tsp (2 mL) turmeric
1 tsp (5 mL) salt
1 tsp (5 mL) pepper
¾ cup + 2 tbsp (200 mL) plain yogurt
½ tsp (2 mL) saffron filaments, soaked in 1 tbsp milk for 5 minutes
1 egg
4 tbsp (50 mL) barberries (zereshk)
2 tbsp (25 mL) almond slivers
1 tbsp (15 mL) sugar
Dissolve 1 tbsp (15 mL) salt in cold water and add the rice. There should be enough water to cover the rice to a depth of ½ inch (1-2 cm). Cover and let soak for 2-3 hours.
Heat 2 tbsp (25 mL) oil in a pan, fry the onion until lightly golden. Add chicken pieces, turmeric, salt and pepper. Gently fry until both sides are just browned. Add 1 cup (250 mL) of water and simmer gently, uncovered, for about 10-15 minutes until chicked is cooked and liquid has reduced. Remove from heat and place chicken on a plate. Allow to cool, reserving onion and stock in the pan for later.
When chicken is cool, mix the yogurt, saffron in milk, and egg in a bowl. Beat with a fork to combine well, then add chicken to the marinade. Let stand for an hour.
Thoroughly wash the barberries with cold water and drain. Mix the barberries with 2 tbsp (25 mL) oil, almond slivers and sugar and cook in a pan over medium heat for about two minutes, stirring frequently. Remove from heat and set aside.
Drain the rice and rinse in cold water. In a separate saucepan, boil 8 cups (2 L) water with 1 tsp (5 mL) salt, add the rice and cook for 5 minutes. Strain the rice and rinse with cold water. In a large pot, spread 2 tbsp (25 mL) oil in the base and add half the rice. Lift the chicken from the marinade and lay the pieces on the rice. Add the barberry mixture to the remaining rice and spread over the chicken. Spoon the onion slices over the top of the rice, and pour the stock over the chicken and rice. Cover the pot tightly and steam over low heat for 30 minutes.
Bon appetit! --Jessie